These are just a few of the movie and TV appearances that Ryan's had.
Lewis, Oswald, and Drew himself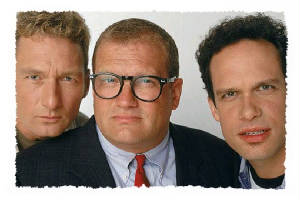 The Drew Carey Show
Stiles' performance on Whose Line is it Anyways seems to go beyond performance: he sinks so deeply into the characters that he plays that you find yourself believing for a short time that he is it.
Along with Mochrie, the two make up a dynamic duo that is unstoppable. They will have you rolling on the floor with laughter. That Wayne is also extremely talented at singing, especially off the top of his head. In different ways, the cast of WLiiA are all geniuses. They think on their feet, which for most is hard to do.